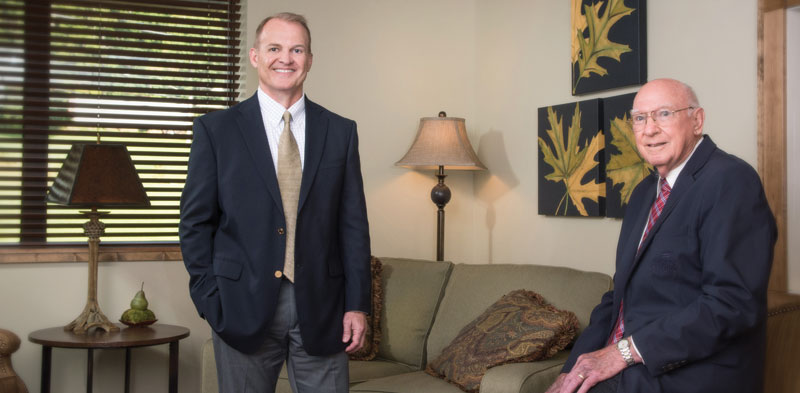 Jimmy Blevins | CEO
RC Mitchell | President
Executive Report
Smart Technologies Start Here, thanks to the robust FTTP network that SkyLine has dedicated more than a decade to constructing throughout its cooperative footprint, ensuring that our members will have access to the latest broadband applications and services available.
It is our pleasure to present the 2016 SkyLine Annual Meeting Report. Over the past year, we have continued our progressive and advanced growth strategy with more fiber deployments, building a future-ready infrastructure across our cooperative footprint, while also making other advancements and being recognized for several achievements.
The first area we wish to highlight is our fiber-to-the-premise (FTTP) buildout and the 2016 completion of the project's engineering and construction plans with last-mile connections remaining in conjunction with the Department of Transportation (DOT) construction along U.S. Highway 221 in Ashe County. It was in 2004 that SkyLine made the strategic decision to overbuild our entire copper plant with fiber-optic facilities. The goal was to have fiber technologies available to every customer in our service area. While only 24 percent of North Carolinians currently have access to gigabit broadband speeds, we are proud that approximately 98 percent of SkyLine's territory has availability of gigabit capable speeds via FTTP technology just 12 years after this initiative began. From the image (shown on page 5), excerpted from the N.C.Broadband Map, please note that the predominance of North Carolina's fiber is located in the High Country where SkyLine provides services.
As a result of our fiber deployment, SkyLine received national recognition in 2015 as a Certified Gig-Capable Provider from NTCA – The Rural Broadband Association. This latest recognition echoes the significance of this initiative as SkyLine has the most extensive fiber network infrastructure in the High Country. It also complements this year's Annual Report theme, "Smart Technologies Start Here."
In addition to executing the final implementation phase of our FTTP initiative, SkyLine has been the recipient of several accolades on a local and national scale. In August of this year SkyLine received the 2016 Alfred Adams Award for Economic Development by the Boone Chamber of Commerce, and also the Business of the Year Award for Avery County. Later this month, SkyLine will be presented the National Smart Rural Community Showcase Award from NTCA—the Rural Broadband Association for our broadband-enabled applications across SkyLine's service area. In February of this year, SkyLine CEO Jimmy Blevins was honored to be recognized at the national level and received the 2015 NTCA Award for Management Innovation. And in April, SkyLine received its fourth national first-place award from NTCA for its Annual Meeting Report.
We continue to experience growth in our company by expanding services and constructing fiber in new territories. Fiber deployment in the Boone area continues to expand. We are pleased to announce that later this year, a new customer/retail center will be opened in Boone which will showcase the latest technologies and services as well as provide convenience for our Watauga customers who frequent Boone. Additionally, we are currently constructing fiber in Caldwell County, particularly the Lenoir area, and plan to begin providing services later this year.
Financially, our consolidated net income for 2015 totals more than $11 million, and our balance sheet reflects over $246 million in total plant. Our company's cash reserves remain strong, which allowed the Board of Directors to approve $1.2 million in capital credit refunds to members and estates in 2015.
Our affiliate Carolina West Wireless is celebrating its 25th year in 2016 and continues to enhance its network and service offerings, with its LTE (Long-term Evolution) 4G deployment progressing to now cover 70 percent of the company's cell sites. The company also is starting its LTE deployment in its Catawba Valley Market. The device line-up is the most robust in the company's history with over 14 LTE devices and seven tablets.
At the Rural Telecom Industry Meeting & EXPO earlier this year in Lake Buena Vista, Florida, NTCA recognized rural telecommunications providers for their achievements and service to the telecommunications industry, and SkyLine Chief Executive Officer (CEO) Jimmy Blevins was among the seven honorees. Blevins received the "Management Innovation Award" for his ongoing efforts to make innovative changes to diversify the company's revenue opportunities and place the focus on the needs of the customer.
He was especially noted for bringing forth innovative ideas that were globally minded and customer-focused, such as the deployment of a Smart Home, creation of The Video Exchange and several unique service offerings.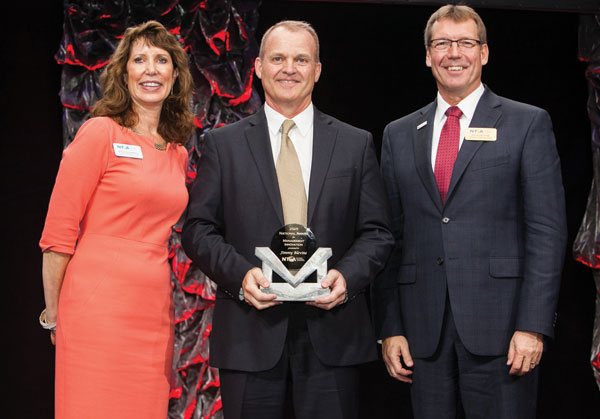 We are proud of the work we have accomplished and the awards we have received over this past year. We attribute this success to an engaged and dedicated group of employees and a forward-looking Board of Directors. Jointly, the Board and employees continue to embrace change and are dedicated to advancing our company forward. Our executive leadership empowers employees to take ownership and resolve customer service issues, and the results speak for themselves. The employees truly care about the communities we serve, and that is what makes us uniquely different from other telecommunications providers.
Most importantly, we want to thank you for your patronage and support of our company. We hope that you are pleased with the service you receive from SkyLine and appreciate the advancements we continue to make.
Sincerely

Jimmy C. Blevins Chief Executive Officer SkyLine Membership Corporation

R.C. Mitchell President SkyLine Membership Corporation

In the NC Broadband Map, the shaded areas represent fiber deployment throughout the state, and a significant concentration of fiber presence appears in the four northwest N.C. counties SkyLine serves.
We continue to experience growth in our company by expanding services and constructing fiber in new territories. Fiber deployment in the Boone area continues to expand.

©2016 SkyLine Membership Corp.